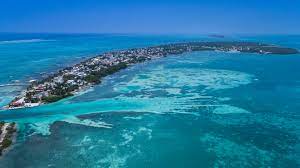 Looking for a tropical paradise on your next vacation? Look no further than Caye Caulker, a small island off the coast of Belize. With its turquoise waters, white sand beaches, and vibrant culture, Caye Caulker offers the perfect blend of relaxation, adventure, and unique experiences. In this blog post, we'll take you through all the highlights of this colorful destination and help you plan an unforgettable visit.
Caye Caulker's Welcoming Local Community
The first thing you'll notice about Caye Caulker is the friendly and welcoming local community. The island is a melting pot of cultures, with Mayan, Creole, Spanish, and African influences all adding to the unique vibe. The locals are known for their laid-back attitude and warm hospitality, making you feel right at home from the moment you arrive.
Beautiful Beaches of the Caribbean Sea
One of the main attractions of Caye Caulker is its pristine beaches. The island has a number of stunning beaches, each with its own unique charm. The most popular beach is called 'The Split,' which is a narrow waterway separating the island into two halves. The Split is the perfect spot for sunbathing, swimming, and snorkeling. You can also rent a bicycle or golf cart to explore the rest of the island and check out other hidden beach spots.
Marine Life and Coral Reefs
Caye Caulker is also a popular destination for divers and snorkelers. The island is surrounded by a network of coral reefs, which are home to a wide range of marine life, including sea turtles, stingrays, and nurse sharks. You can take a guided snorkeling or diving tour to explore the reefs, where you'll have the opportunity to see some of the most colorful and diverse marine species in the world.
Colorful Culture
Caye Caulker is also a hub of colorful culture. The island has a lively arts scene, with a number of galleries showcasing the work of local artists. You can also sample traditional Belizean cuisine, which is a delicious blend of Caribbean, Latin American, and Creole influences. Make sure to try some of the local delicacies, such as conch fritters, fry jacks, and ceviche.
Festivals and Events
Finally, Caye Caulker is also known for its lively festivals and events. One of the biggest celebrations is Lobster Fest, which takes place every June and July. This festival celebrates the opening of lobster season with live music, dance, and, of course, plenty of fresh lobster dishes. Other events include the Caye Caulker Arts & Music Festival, in December, which features local artists and musicians, and the Independence Day Parade on September 21st.
Conclusion:
Caye Caulker is a true paradise, offering a unique blend of nature, culture, and relaxation. Whether you're looking to explore the vibrant reefs, soak up the sun on the beach, or taste the local cuisine, there is something for everyone on this tiny island. So pack your bags, grab your snorkel gear, and head to Caye Caulker for an unforgettable experience in the heart of Belize. Happy travels! For a perfect centralized place to stay, choose Seaside Cabanas at Caye Caulker.